One of the first things people will experience about your co-op is its logo. And in today's world of instant visual gratification, what people see plays a role in whether they decide to go to your co-op or to your competition. Will your logo make the cut?
---
Stand Out – People are impacted by the visuals and it's important to make a lasting impression. With so many logos in the world, it's important for your co-op's design to be original. If your logo is unique, people are more likely to
remember it. How are you different from your competition? Make sure your logo makes people notice the difference!
Uncomplicated – People will not spend a lot of time trying to figure out what your logo looks like or what it's trying to say. If the design is too complicated you will lose the attention of potential customers. People react faster to images than to text so don't make them read to figure out who you are.
Appropriate – Choose colors and fonts that align with your business. It has to make sense to more people than just your core shoppers.
Convey Meaning  – Your logo should provide information about the products and services you provide. There should be no question that you're a cooperative grocery store.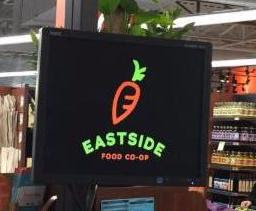 Don't Expect Instant Success
– Your logo will not be an instant icon. It will take time for people to get behind your logo because first people have to get behind your product and trust the co-op. Be patient and don't rush to make changes because you hear some negative feedback. Change can be hard for some, but often necessary to grow.
Avoid Clichés – A light bulb for 'ideas and innovation', a thought bubble for 'discussion'-the first ideas that come to mind when brainstorming should probably be the first to discard. They have been done before. That said, yes you can use the color green!
Logo vs Brand
– Your logo is NOT your brand! It's an incredibly important graphic but no matter how amazing it is, if you don't use it right and back it with a strong brand it's still just a graphic.
Brand Guide – Make sure you have a brand guide. A strong logo doesn't do much without the structure in which to use it. A brand can easily go array if too many people at the co-op are using the logo in their own, unique way.
Members/Owners – You can use participation from members in the form of surveys, brainstorming sessions and focus groups. But be careful – don't let members design the logo. That is up to you and the branding professional.
---
Grab and Go Solutions is a resource from CDS Consulting Co-op to provide easy to implement solutions to common issues facing food co-ops. Watch for future releases tackling a wide variety of topics including HR, governance,  member engagement, safety, store and growth.
Brought to you by CDS Consulting Co-op Consultants 
---
Add to favorites